PVS3140 Gen 3 Gen 2+ White/Green Phosphorus Tubes Night vision goggles LDNV008N FOV 50 degree housing with battery packs and diopter adjustment
Regular price
$8,297.00 USD
Regular price
Sale price
$8,297.00 USD
Unit price
per
Sale
Sold out
This 1X binoculars night vision goggles gen 3 gen2+, its FOV 50 degree better than PVS 3140m. Our new design is compact, lightweight dual night vision binoculars. They utilize two high performance image intensifier phosphorus tubes to provide extremely clear and crisp images under the darkest conditions.  A built-in IR illuminator lets the users easily read a map and function in a total darkness environment.
NOTICE: LEAD TIME IS 3 - 4 WEEKS AS WE DO NOT KEEP UNITS IN STOCK DUE TO LOW SALE NUMBERS BUT COMPARED TO USA 6 MONTHS WAITING LIST WE ARE FASTER. 
This 1X binoculars night vision goggles gen 3 gen2+ is designed to handle every budget and mission requirement and is a high performance choice!
PVS-3140NVG is a high-performance military head mounted night vision binocular with reference to pvs-31, an active head mounted night vision binocular in the United States. Low light PVS-3140NVG has the characteristics of super large field of view, high definition, no distortion, light weight, high strength, which is the ideal choice for military night vision device.
FOM is 1768-1800,64-68lp 26SNR Gen2+ WP tubes.
1set NVGs with 2pcs WP tubes,battery pack,power cable,safety case
Technical specifications:
MODEL

PVS-3140NVG

Flip up helmet mounted 

Automatically detect and power off when flip up

 

Battery type 

Lithium battery (cr123x1) / cr123x4 external battery box

Power supply

2.6-4.2V

Control mode 

ON/IR/AUTO

Over power consumption

<0.1W / 0.1w

Battery capacity

800-3200maH
800-3200maH

Battery life 

40-100hrs

Magnification 

1X

FOV

40°

IIT 

Gen2+ / 3

Lens system 

F1.18 22.5mm

Resolution 

64LP/mm

Optical distortion 

3% Max

Relative Illumination

>75%

Coating 

Multi-layer broadband coating

Focal Range 

250mm-∞

Focus mode 

manual focus

Eye relief 

30mm

Eyepiece aperture

8mm

Eye distance adjustment range

 

50-80mm

Eye distance locking method

Manual locking
FEATURES:
1. IP65 orIP67 weatherproof;
2. Low battery indication;
3. Bright source protection;
4. Mil-spec multi-coated optic;
5. Automatic brightness control;
6. Fully adjustable head mount;
7. Embedded spring in battery's cap;
8. Automatic shut off when flipped up;
9. No power consumption when in standby;
10. Large IPD range.
The new PVS-3140-MOD is a dual-tube goggle system with ergonomic design and improved functionality. It accommodates features such as a dedicated Instant-On-IR button to quickly and momentarily engage IR illuminator without having to operate the switch.
The connector located at the front of the unit is used to supply power to the unit from almost any power source: external battery pack, USB power bank, 12V car socket and so on. By customer's request, the unit can be equipped with Bayonet (PVS) or Dove-Tail style bracket.
Thanks to dual-tube design, PVS-3140-MOD delivers depth perception and allows using PVS-3140-MOD to operate various machines, boats etc., in addition to basic ground operations. A dual-tube night vision system has proved to be safer and more effective in low-light conditions compared to a "bi-ocular" system, commonly known as "PVS-7", which is a "one lens-two eyes" type of NVD.
Technical Data
Optical Magnification: 1x
Objective Lenses: 27mm
Focus Range: 0.25m .. Infinity
Field of View: 40º
Diopter Adjustment Range: -6 .. +4
Interpupillary Adjustment Range: 50mm .. 90mm
Built-In IR Illuminator: Yes
Momentary IR-On Button: Yes
IR-On Indicator: Yes
MIL-SPEC Switch: Yes
Bright Light Protection: Yes
Automatic Light Overload Shut-off System: Yes
Low Battery Indicator: Yes
Stow Safety Feature: Yes
Flip-up-off Feature: Yes
Selective Channel Engagement: Yes
Any Polarity Battery Insertion: Yes
Power Source: 1pc AA or 1pc CR123
Battery Life: up to 40 Hours
External Power: 4VDC .. 15VDC
Operating Temperature: -40C .. +50C
Dimensions: 112x105x70mm
Weight: 650g
Warranty: 7 Years, Limited
Export: Available for Export Worldwide

Made In Canada, Non-ITAR System
Share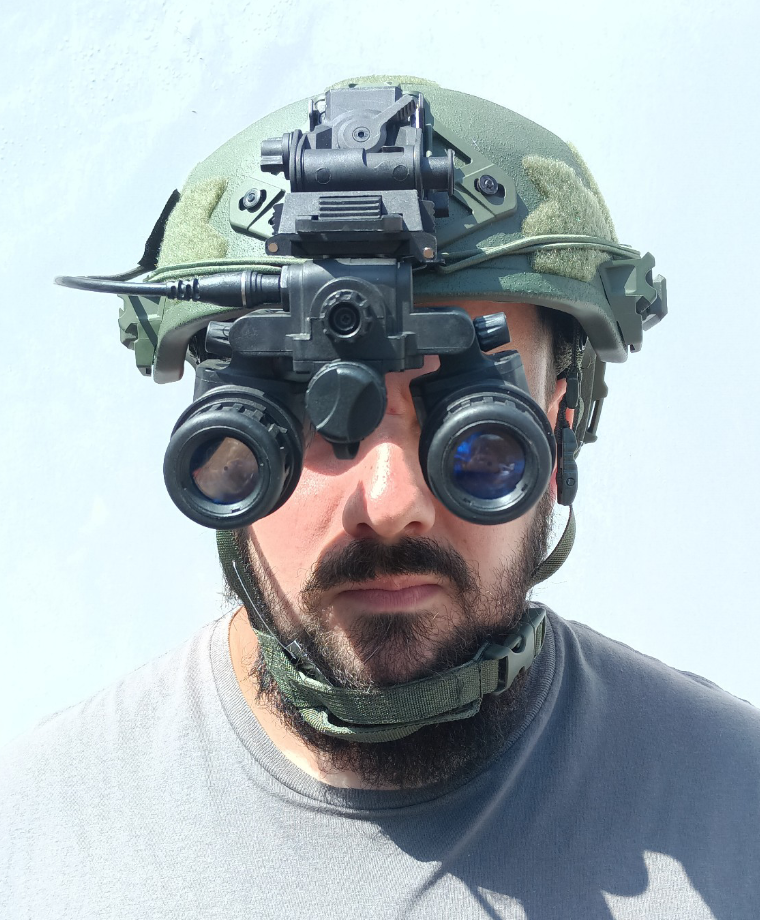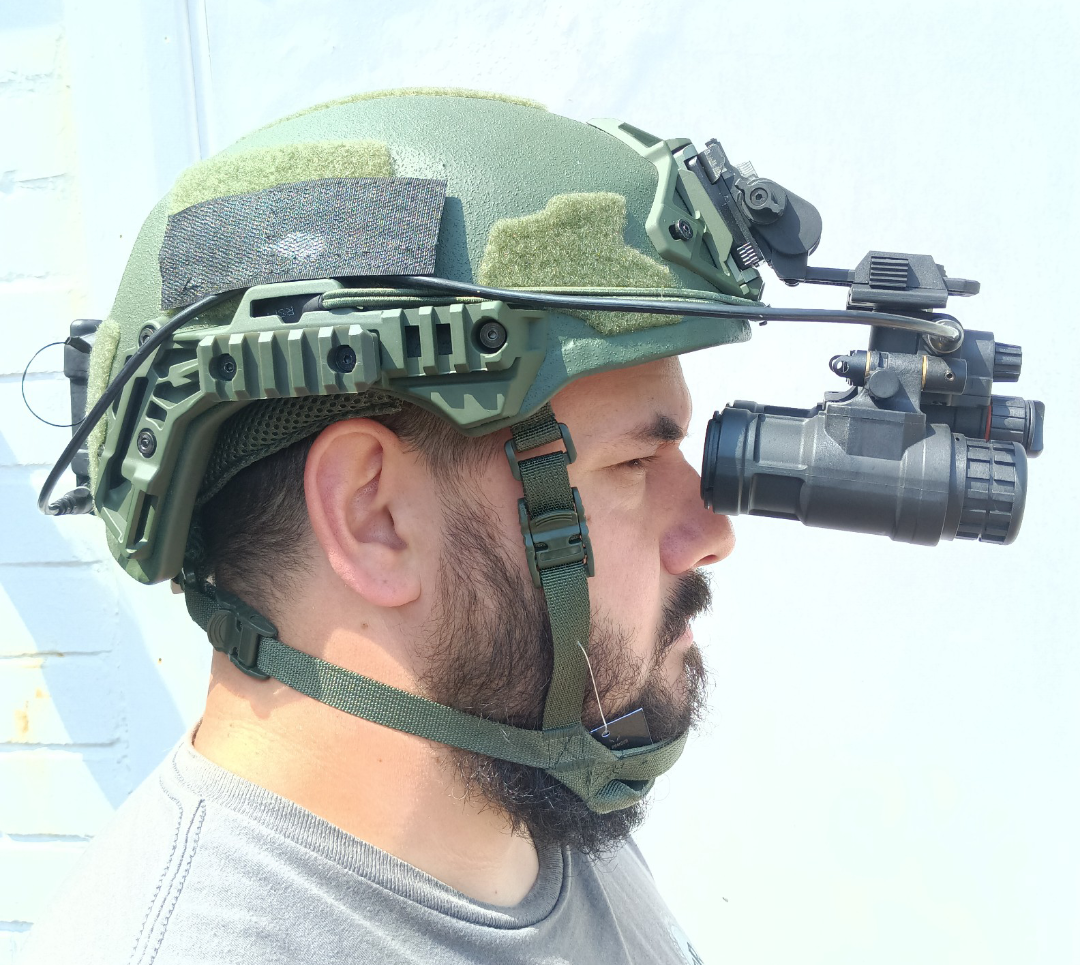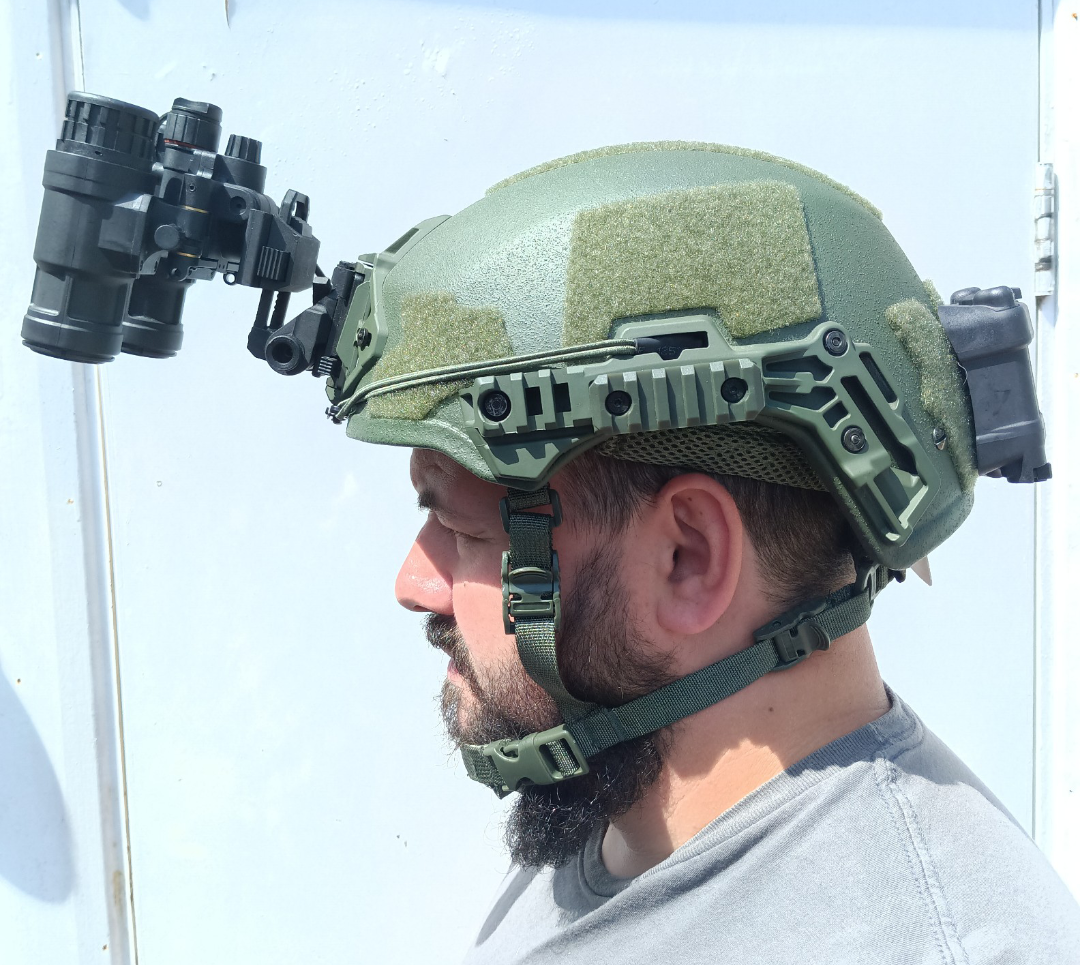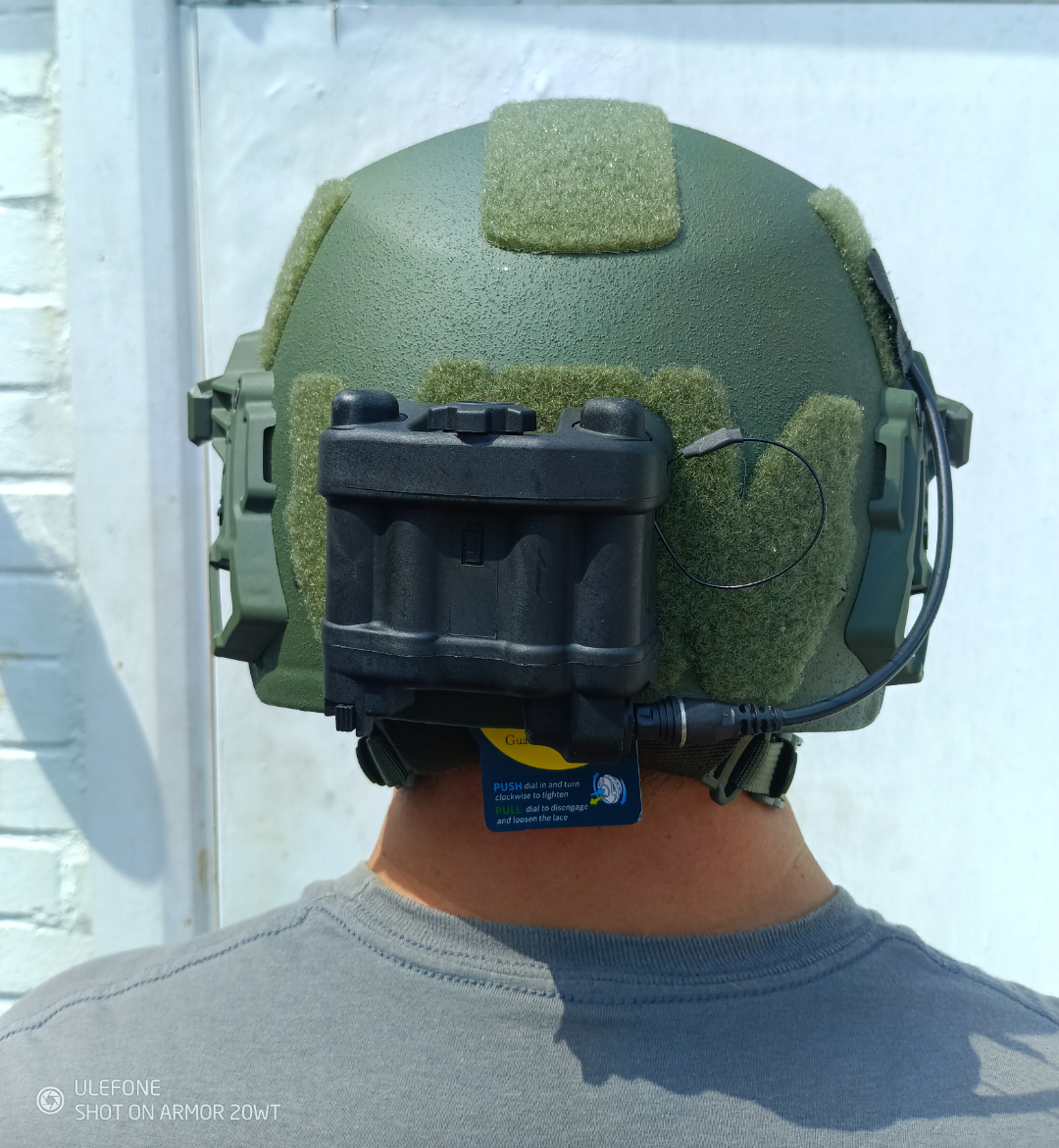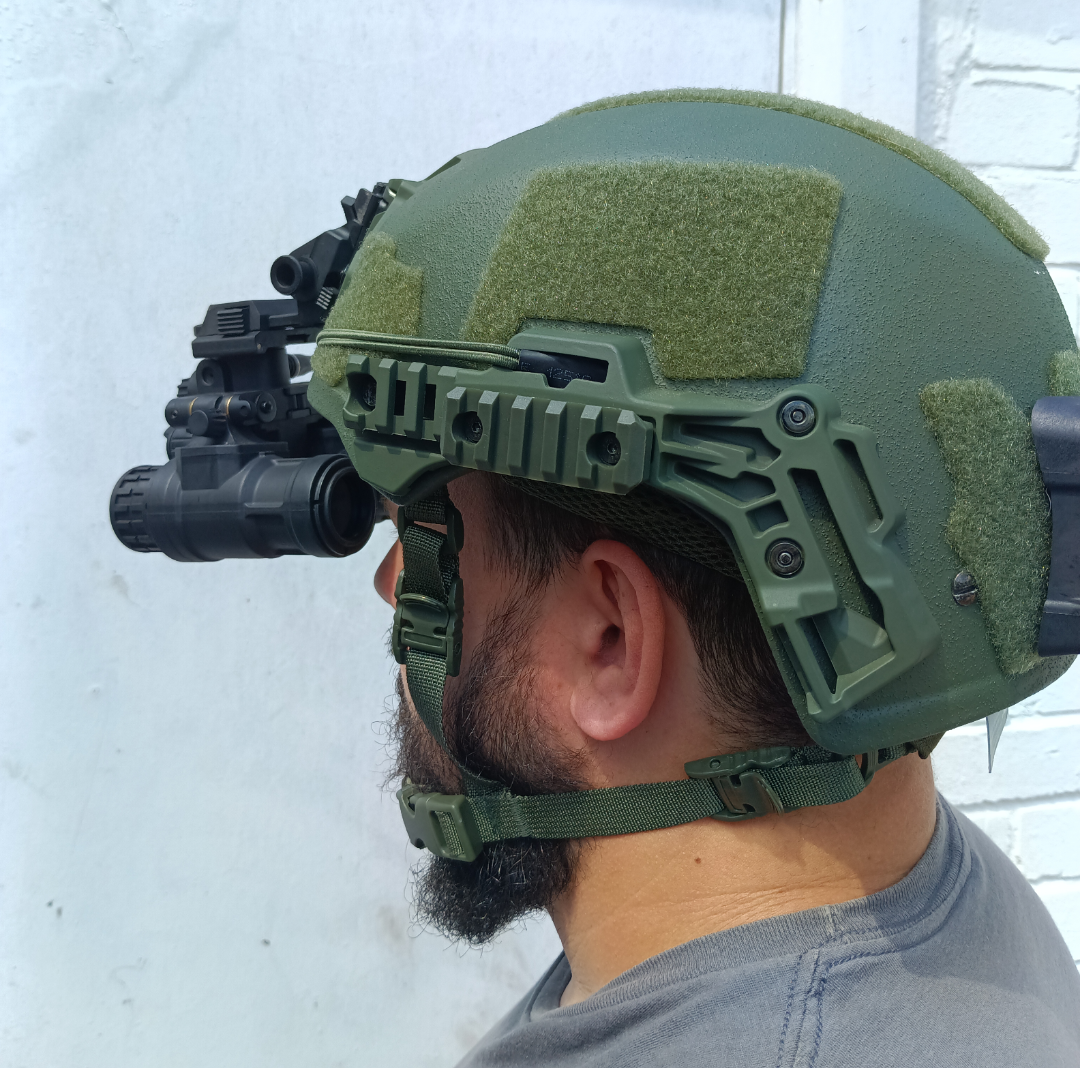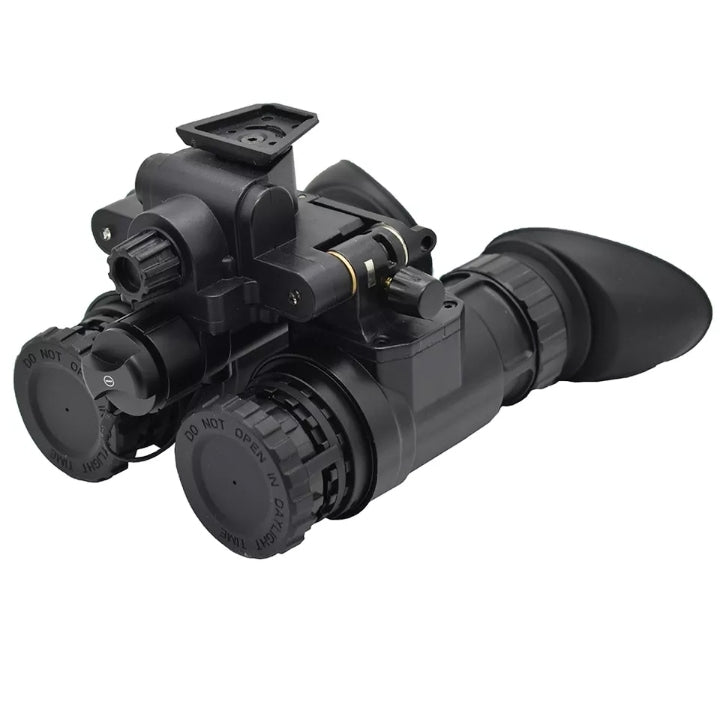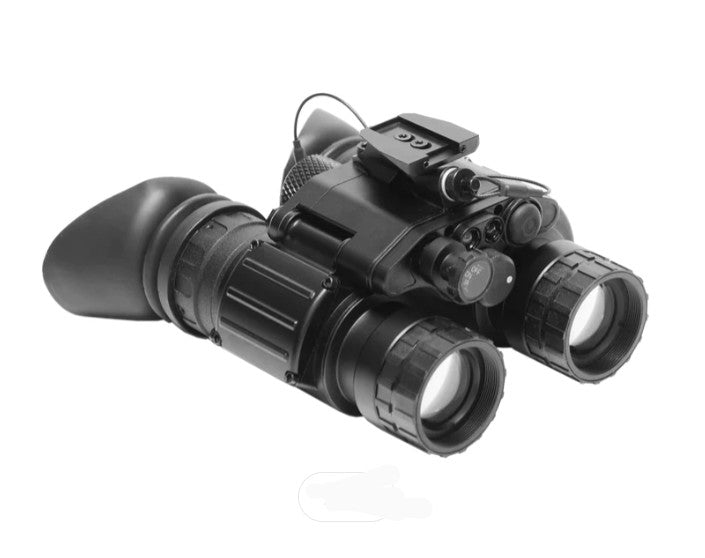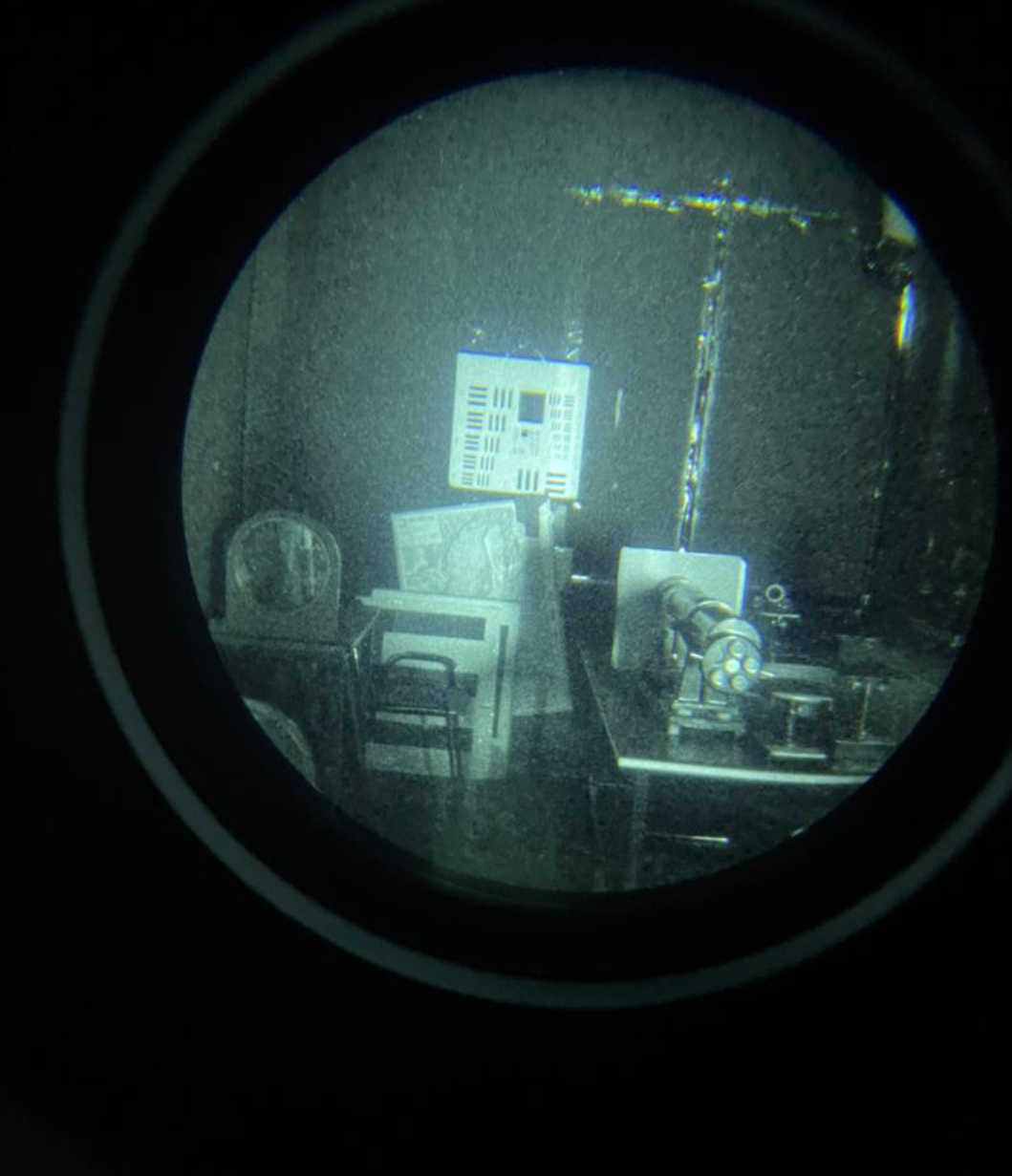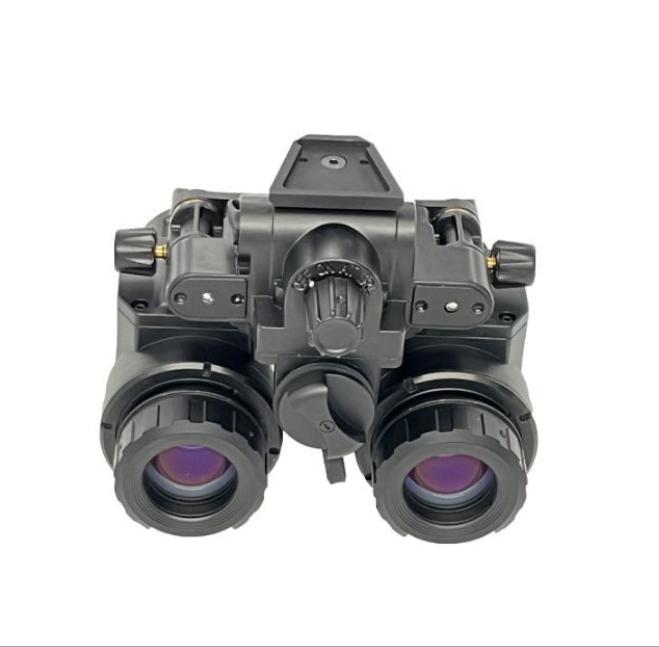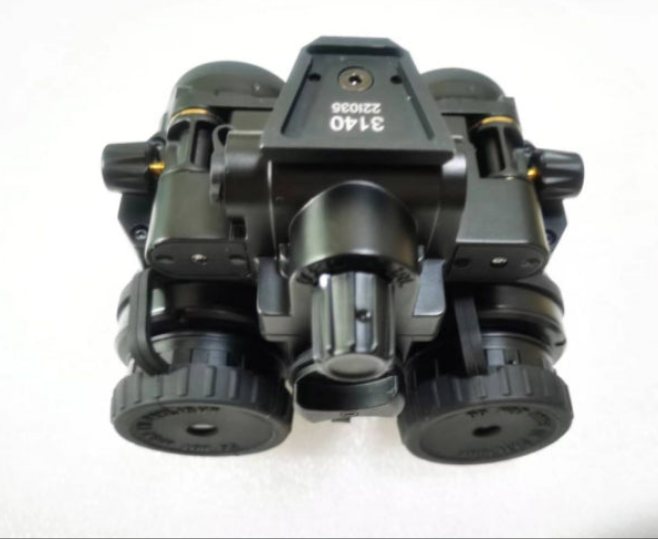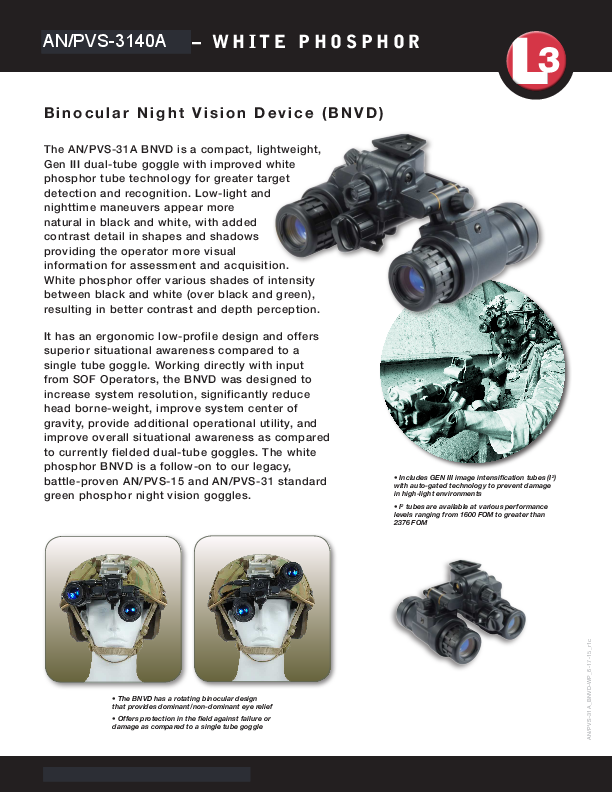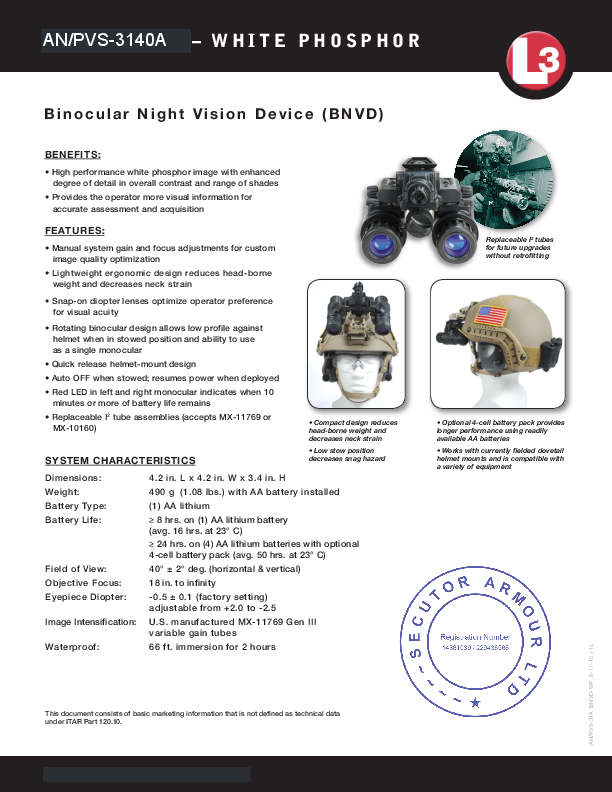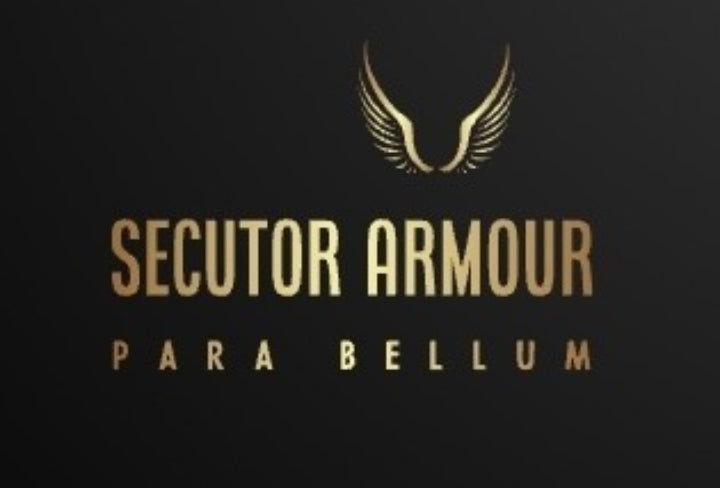 NIJ IV armor
NIJ certified armor with a level IV ratingprovides the best ballistic protection on the market. Level IV body armor can protect wearers against rounds such as 7.62 x 51, light armor piercing projectiles like 5.56 x 45 (M855), and . 30 Caliber M2 armor-piercing bullets.